Just a few quick items and then we'll get to the story of the week.
FIRST, FLASH FICTION is due to hit bookstore shelves next Friday (Nov. 18), but…for some reason (and I have absolutely no problem with this) Amazon is delivering the paperback copies as of TODAY! If you ordered a paperback through Amazon, you should be seeing it soon.
SECOND, to celebrate the official release of the book, I'll be at Downtown Books & Sound (in Salinas, CA) that night, from 6-8 pm signing books and reading stories as dictated by my patented "story wheel." Stop by if you're in the neighborhood. I know I'll try to be there!
THIRD, if you're one of the kind folks who offered to help me pick my top three stories to enter in the annual Monterey County Weekly 101-word story contest, thanks! I plan to have my top 10 picks out next week for you to review. I'm looking forward to seeing what kind of consensus (if any) develops. If you haven't volunteered but would like to, there's still time. Just email me that you want in and I'll add you to the team. You'll need to read the stories and get back to me in a week. Ten whole 101-word stories in a week? Don't sweat it. I have confidence in you!
And now on to the Story of the Week…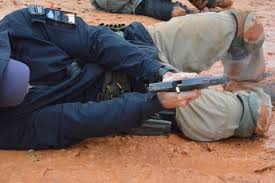 Live and Learn—If You're Lucky
He dove behind a barrel as the rounds—lots of rounds—flew over his head.
The amount of firepower he was facing caused his brain to shut down momentarily. Instead of coming up with a brilliant game plan, his only thought was how out-gunned he was. A low-capacity pistol against what sounded like an army.
Job One: keep moving and conserve your ammo.
He cranked off two rounds and sprinted toward a brick pile for cover.
As he reached it, multiple shots struck his chest.
If I somehow survive, he thought, I'm never playing paintball with the kids again.
Prompt: You don't bring a donkey-tail pin to a gun fight