Since there's a whole lot going on in my world of writing, let's jump right into it, shall we?
If you missed last week's post, I shared a bit about my first foray into NaNoWriMo (or National Novel Writers Month) where writers and wannabe writers try to spit out an entire 50,000-word novel during the month of November. I figured out before I even began that the only way something like this might work for me would be if I got up at zero-dark thirty and started writing before life got in the way. I'm happy to report that after the first ten days of NaNoWriMo, my plan is paying off. I've been up every day by 5:30, (sometimes even before 5!) and I've met or exceeded my 1,500-word daily goal. For those of you interested in keeping score at home, here's a look at the scoreboard.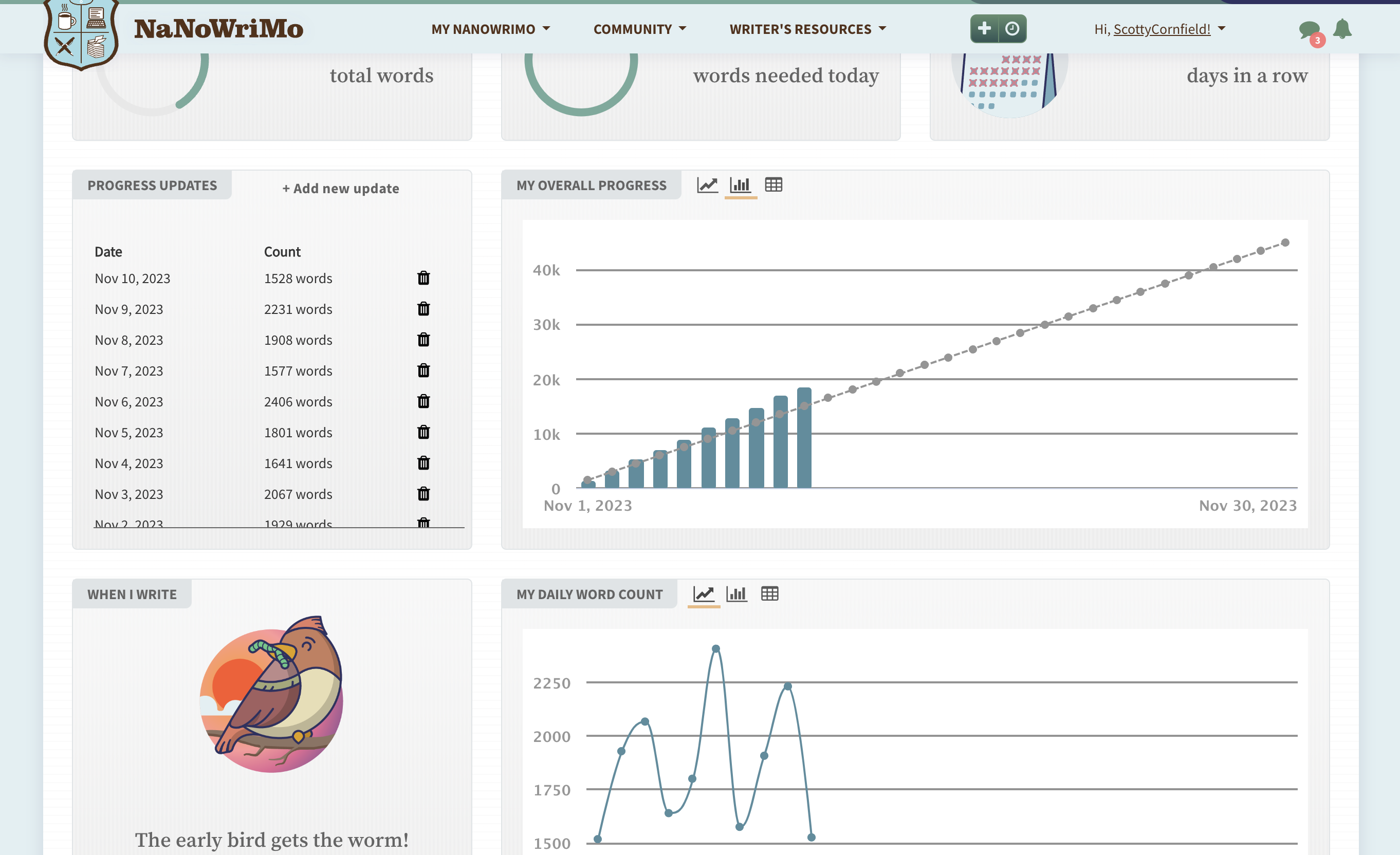 Will there be days when something stops me from reaching my daily goal, or worse yet, prevents me from writing at all? It could happen, so just in case it does, I want to have plenty of cushion. If I keep up this pace, it won't be a problem. I've never been on a streak where I've been this prolific for this many days in a row. Not sure what's going on, but it may be that I've found my superpower and it's only good if I'm up and writing before the rest of the world is awake. Stay tuned for more.
Before I move on to talk about personal appearances, here's the Story of the Week. The prompt was generously supplied by Stephen Choi.
Once You Start Remodeling…
Inside the sophisticated waiting room of the Beverly Hills plastic surgeon, sat a woman with eyebrows that left her permanently surprised.
Across from her was a man with a face so taut it could repel bullets.
"I'm only here for moral support," the woman said.
"I'm just giving my buddy a ride home," the man replied.
The receptionist entered. "This is for both of you. Your friends will be out shortly Also, the doctor says thanks."
The woman laughed and faced the man. "You cashing in on the referral money too?"
"I am," he replied. "Gotta pay for these looks somehow."
Events: Past & Future
On Tuesday, I gave a presentation to another great Rotary club. Salinas has a few of them and this one meets at the National Steinbeck Center (or at least in a room adjacent to the place that I've never been to—yet. It's so close I really have no excuse. Maybe I'll figure out how to squeeze in a trip soon and report back to you. In the meantime, here are a few pics (courtesy of S.X. Photography, LTD.). Congrats to Rotarian Jim Gattis who won a free copy of my latest book that was raffled off at the end of the meeting.
Part of this week's presentation included some live demos where we had ChatGPT and Google Bard compose and then alter some 101-word stories. Well…we asked for 101-word stories. One of them turned out to be 337 words long. So much for the most powerful computers in the world being able to do sophisticated math such as counting words!
No demonstration of my sophisticated storytelling would be complete without a visit from the Magic Story Wheel, seen here completely mesmerizing one participant.
Not sure what I was saying or doing that justified capturing it for posterity, but apparently the Rotarian in the bottom right corner of the photo felt otherwise, capturing it all on his phone.
And for those of you living in or near beautiful downtown Morgan Hill, CA, I'll be joining other local authors on Saturday, Nov. 25th from 10 am to 3 pm when we celebrate Small Business Saturday at BookSmart. Stop by and say hi. Who knows? Maybe I'll even sign your book for you. Lest you think this is shameless marketing on my part, rest assured this is not the case. It could be a book from Stephen King or Colleen Hoover and I'll sign it. See how accommodating I am?